Fully Managed Recovery is the most important pillar of what we do here at defend-id. We take Service Level Standards and Client testimonials very seriously. It is important to ensure that everyone we cover has peace of mind, knowing they have someone who will take care of any identity issue they encounter. All the credit goes to our team of recovery experts who are getting amazing results.
Service Level Standards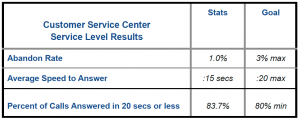 2022 Q1 Fully Managed Recovery Testimonials
"I am so pleased as to how my call was handled, the knowledge the representative had

and all that was done while I was on the initial phone call. As a victim of unemployment insurance fraud. I would not have known where to start with putting a

stop to someone using my social security number and other info to commit identity

theft. The Dark Web report is nothing less than Amazing as it let me know each of the

dates and types of information was placed on the Dark Web. The report informed me

what steps I should take with changing passwords on accounts etc. Thankfully no

damage was done to my credit.

I share my personal story so that other members are aware of a situation that occurred

and how they (recovery advocates) are working on my behalf. Members need to hear

that identity theft is real and could happen to anyone. This benefit is something I never

thought I would have needed in the past but now I know how very valuable such a

service is and I am grateful and proud to say that Partners offers this valuable type of

p

rotection to our membership". Lois M.

FCU





"I would like to acknowledge my fraud specialist and her professional help with my

identity theft case. She is trusted, experienced, knowledgeable, helpful, patient,

follows up in a timely way, calm, and well-spoken. I am a senior, fixed income, and

have had ongoing issues with months of unrequested credit and debit cards, and

continue to have fraud. As a result of my initial contact with my financial institution, I

was directed to your services. My case was assigned to my advocate and she is

OUTSTANDING and our communication continues. She has e-mailed, made phone

calls helped with adding me to necessary account freezes, helped me, (a

not-so-knowledgeable senior), speak with an agent for assistance help, with my latest

financial stress! Always leaving me with the confidence and messages, "Do you have

any other questions for me? Call me, when anything else occurs. Do not hesitate to

call or contact, if I can be of any help." My advocate continues to help. Please acknowledge this valued employee, in some way for me. I am grateful for her continued

trusted help.

I am so very grateful!" Penny Y.

CU





"Our Advocate was superb. I can't thank her enough. The

process was extremely helpful and our advocate made it so easy to navigate. One of

the best investments I have made – opting in to this service…" Steven G.

CU





"My advocate was very helpful and made sure I understood everything about my

account. She followed up the next day via email and personal phone call and is a very

easy person to deal with. I appreciate all your help and it put me at ease to know my

accounts are being watched out for me thank you very much!." Terry S.



"

My Recovery Advocate has been wonderful to work with. Thanks, again for all of the

valuable information and services provided."

Kelly V.



"Thank you! My Fraud Specialist has been wonderfully helpful! You have all been

great! Your knowledge and ability to provide assistance are amazing!" Steve M.


"I am writing to you because of the exceptional service I have received over a year period with my assigned Recovery Advocate. She has been extremely patient, skillful, and customer service oriented!. She is amazing. Please give her a raise! She calmed me down and skillfully navigated to what needed to be done. Thank you so much!!" Shane L.